News
Sequim Gazette
Unique boutique sells 'pre-loved' items
November 11, 2013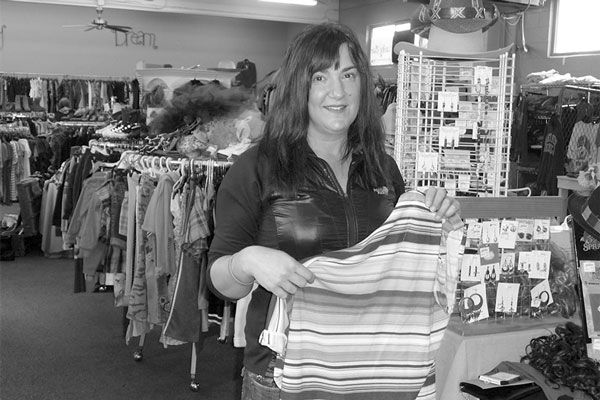 Sequim Lucky Star Consignment Clothing is not your average consignment store and owner Katie Rancich planned it that way.
Yes, the 3,650-square-foot building at 154 W. Washington St. is brimming with consigned used apparel and accessories but there's so much more.
Rancich also supports Sequim cottage businesses by selling hand-crafted scarves, hats, tutus, jigsaw puzzles, jewelry, walking sticks, candles, cards, metal art and mortar-cast garden art. She also buys the latest and greatest for the tween and teen market, including leggings and vibrant, colorful socks and line of Steampunk clothing.
There also are more eclectic items for the home such as wildly geometrically patterned starlights, exotic Himalayan salts and salt healing lamps. If your tastes are more on the conservative side, Rancich also sells antique furniture from downsizing seniors at reasonable prices. She's opened one room so that Heather Creek can offer chalk painting classes on old furniture.
In the past year, Rancich has turned her life upside down. Her career had been as a hospice nurse and when the cumulative effect of losing so many patients hit her hard, she decided she needed a job where it was fun to come to work every day.
About six months ago she and a friend happened upon Lucky Star in Silverdale and fell in love with the funky boutique.
"We decided Sequim needed this, too, for young people to get fun stuff," Rancich said. "People can consign and I'm buying retail items new that other stores don't sell around here. I buy unique things that I like and that others would like, too.
"Sequim is a word-of-mouth town and things have been going good — the welcome has been good."
Lucky Star opened with a soft opening on Aug. 1 and she's holding off on a grand opening until she can get some signage issues resolved with the city.